WORLD PREMIERE PERFORMANCES - MARCH 13 & 14, 2020 - ANNENBERG CENTER - PHILADELPHIA
Conceived by Nikki Appino and created in collaboration with Philip Glass, Tenzin Choegyal and Kevin Joyce, The White Lama is a new work for the stage about the quest for the sacred, framed by the adventurous life and disappearance of Theos Bernard. Part biography, part invocation, the piece is a blend of projected imagery, prose and music performed by Kevin Joyce, with a live score by composers Tenzin Choeygal and Philip Glass.
In 1947, American Theos Bernard set out on a rugged mountain trail for the monasteries of Tibet. He was never seen nor heard from again. Mostly unknown to Americans now, Bernard was, at the height of his fame, regarded as a national celebrity. As the first westerner to study with yogis in the secretive monasteries of Tibet, tales of his exploits graced the pages of leading publications across the nation from Family Circle Magazine to the New York Times. In some circles he was known as the White Lama, a spirit destined to bring Tibetan teachings to the west.
He would go on to give lectures across the country, teach and author books about the practices of Tibet and Hatha yoga that inspired generations of seekers to follow in his footsteps in the '50s,'60s and beyond. Bernard grew up at a time when eastern spirituality was shrouded in mystery and exploited by charlatans and con men. As an explorer, yoga teacher and showman he played a surprising role in the growth of America's religious counterculture - and stories of his life once captured the imagination before he faded into obscurity. In the spring of 2020, The White Lama revives the essence of his quest and explores the remarkable impact of the legacy he left behind.
Major support for The White Lama has been provided to Nikki Appino by The Pew Center for Arts & Heritage. www.pewcenterarts.org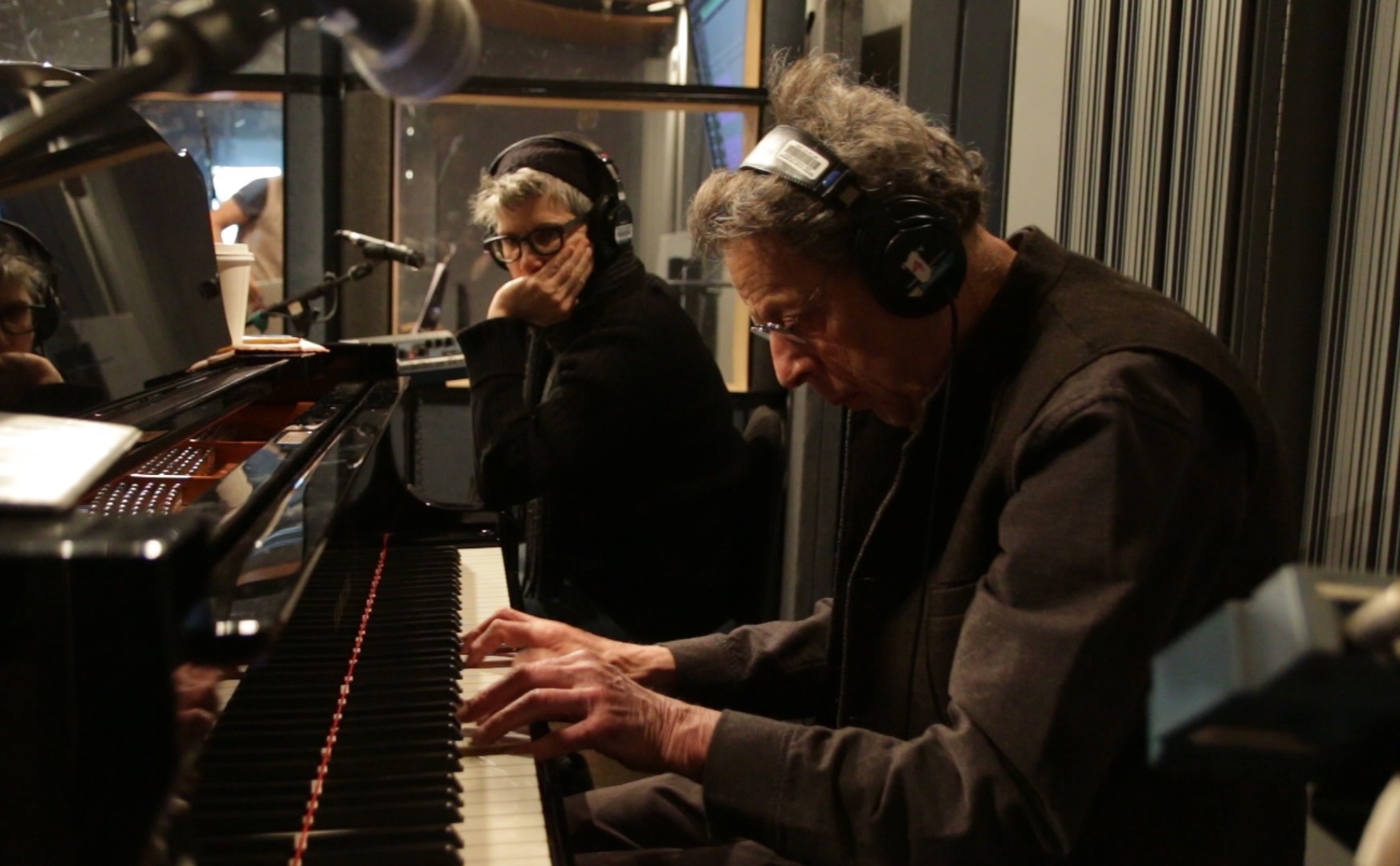 Philip Glass and Nikki Appino at the February recording session making a demo of the music at NYU…
BIOGRAPHIES
NIKKI APPINO
For three decades, Nikki Appino, theater artist and filmmaker, has refined and personalized her career as a director, writer, and producer for stage and screen. Her most recent project, Club Diamond (created with Saori Tsukada) was selected for the Sundance TheatreMakers Residency and its Theatre Lab at MassMoCA. Club Diamond premiered at the 2017 Under the Radar Festival at the Public Theater in New York City, and played at the 2017 Days and Night Festival in Big Sur, California.
Her work has been recognized through commissions and grants, including The Pew Center for Arts & Heritage, The Flintridge Foundation, Paul Allen Foundation and the National Endowment for the Arts/TCG Directing Fellowship. Appino has collaborated on her original work with a range of artists and composers, including Philip Glass, Tim Fain, Eyvind Kang, Tenzin Choeygal, Robin Holcomb, and Wayne Horvitz. Her directing credits include Second Attention by Victor Sanchez (World premiere at 2018 Days and Night Festival) and Robin Holcomb's Silent Spring (Walker, Wexner, Flynn Center, DTW). Regional theater credits include A.C.T., Milwaukee Rep, Portland Rep, McCarter Theatre, Perseverance Theatre, the Empty Space, On the Boards, PS 122, and the Berkeley Rep.
With her company Appino Productions she directed and produced the documentaries A Girls' Gotta Ride (about women and the rodeo) and American Rimpoche: A Tibetan Lama in the Twenty-first Century (about the arrival of Tibetan Buddhism in the West, with music by Philip Glass). She currently has two other performance projects in development: Transcontinental, a musical myth about two women in love during a 1932 roller derby contest and Archivist with Saori Tsukada, the companion piece to Club Diamond.
PHILIP GLASS
Through his operas, his symphonies, his compositions for his own ensemble, and his wide-ranging collaborations with artists ranging from Twyla Tharp to Allen Ginsberg, Woody Allen to David Bowie, Philip Glass has had an extraordinary and unprecedented impact upon the musical and intellectual life of his times.
The operas – "Einstein on the Beach," "Satyagraha," "Akhnaten," and "The Voyage," among many others – play throughout the world's leading houses, and rarely to an empty seat. Glass has written music for experimental theater and for Academy Award-winning motion pictures such as "The Hours" and Martin Scorsese's "Kundun," while "Koyaanisqatsi," his initial filmic landscape with Godfrey Reggio and the Philip Glass Ensemble, may be the most radical and influential mating of sound and vision since "Fantasia." His associations, personal and professional, with leading rock, pop and world music artists date back to the 1960s, including the beginning of his collaborative relationship with artist Robert Wilson. Indeed, Glass is the first composer to win a wide, multi-generational audience in the opera house, the concert hall, the dance world, in film and in popular music – simultaneously.
In the past 25 years, Glass has composed more than twenty five operas, large and small; twelve symphonies; three piano concertos and concertos for violin, piano, timpani, and saxophone quartet and orchestra; soundtracks to films ranging from new scores for the stylized classics of Jean Cocteau to Errol Morris's documentary about former defense secretary Robert McNamara; string quartets; a growing body of work for solo piano and organ. He has collaborated with Paul Simon, Linda Ronstadt, Yo-Yo Ma, and Doris Lessing, among many others. He presents lectures, workshops, and solo keyboard performances around the world, and continues to appear regularly with the Philip Glass Ensemble.
TENZIN CHOEGYAL
Tenzin Choegyal is a Tibetan artist, composer, activist, musical director and cultural ambassador. Born to a family of Tibetan nomads, Tenzin channels the wisdom and traditions of his ancestors through his songs. Over the years, he has enjoyed a successful international career as a musician, playing at such prestigious events as WOMAD and for Tibet House at Carnegie Hall, New York.
In 2008 Tenzin founded the annual Festival of Tibet in Brisbane, Australia, which showcases Tibetan culture. Through his music and cultural activities such as the Brisbane Festival of Tibet, Himalayan Film Festival and Women with Wisdom concert series (Sydney Opera House, Federation Square) Tenzin shares the Tibetan story of what it really means in being human though his art.
In addition to his solo performances, Tenzin is an avid collaborator with musicians from diverse cultures, traditions and genres. With his world music band Tibet2Timbuk2, classical western (with Camerata of St John's), contemporary (with Philip Glass) and ancient traditional (with didgeridoo master William Barton), Tenzin has released six independent albums and recently collaborated with Philip Glass on the score for the film 'The Last Dalai Lama?'. With Laurie Anderson, Tenzin is now working on an interpretation of the Tibetan Book of the Dead to be release by the Smithsonian Institution in 2019.
KEVIN JOYCE
Kevin Joyce is a Minneapolis native who co-founded the Seattle area physical theatre company UMO Ensemble in 1989. With UMO, he co-created and toured 14 shows, logging over 1000 performances in the US, Canada and Europe as an actor, clown, buffoon, vocalist and musician, before retiring in 2001. He has trained with the iconic theater company Els Commediants (Barcelona), improvisation legend Ruth Zaporah (San Francisco) and music innovator Meredith Monk (NYC). Kevin created the award-winning solo musical A Pale and Lovely Place, and co-wrote and co- composed the musical Rain City Rollers with Nikki Appino and David Russell. Kevin has directed and performed with the Dinner Circus/Cabaret Teatro Zinzanni in San Francisco and Seattle since 2001. A member of SAG/AFTRA, he has appeared in numerous radio and television commercials, and was the Creator and Host of the TV variety show Big Night Out. Since 2003, along with his wife Martha Enson, Kevin has run EnJoy Productions, producing and performing theater, music, comedy and live spectacles for hundreds of public, private and civic events in traditional and non-traditional venues throughout the US and abroad.
JORGE COUSINEAU - PRODUCTION DESIGNER
Jorge Cousineau is a designer of sets, lights, sound and projections for dance and theater. Over the last twenty years his designs have been seen and heard internationally, regionally, and all over his home base, Philadelphia. Together with his wife Niki Cousineau and Scott McPheeters he co-directs their company subcircle.
Jorge is a recipient of two Independence Foundation Fellowship grants, a Lucille Lortel Award in New York City, and several Philadelphia Barrymore Awards. He was awarded the F. Otto Haas Award for Emerging Theater Artist and is a recipient of the Pew Fellowship in the Arts.

MARIA SHAPLIN - LIGHTING DESIGNER
Maria Shaplin is a Philadelphia-based lighting designer who received her MFA from Temple University. She has a BA in Anthropology and Sociology from Hampshire College. Maria designs for many Philadelphia-based companies including: Applied Mechanics, The Riot Group, Swim Pony Performing Arts, InterAct, The Arden, The Wilma, New Paradise Laboratories, 1812, Theater Horizon, Headlong Performance Institute, UArts, IRC and Quintessence. Maria is the co-founder of Applied Mechanics, a company who devises immersive, multi-narrative performance art.