Play trailer for The White Lama
Theos Casmiri Hamati Bernard
In 1937 after years of stopping foreigners at the border, the Tibetan government welcomes in a young American from Arizona and initiates him into their secret world.
He's given unprecedented access.
He returns to America to great acclaim and carrying hundreds of photographs, artifacts and sacred texts. He travels the country as a showman, celebrity and spiritual teacher.
In 1947 he set out again for Tibet…
…and never returned.
America at the Turn of the Century
This era sees the first colonial generation of religious innovators, their passion for the occult, and a counterculture America irresistible drawn to mysticism. Shakers and Quakers, Theosophists, Transcendentalists, Spiritualists, early translations of the Bhagavad Gita - all speak to a tumultuous period of exploration and experimentation. For Americans who believed in liberal social and religious ideals, the messages emanating from these movements appealed to the rights of ordinary people to devise their own spiritual path.
Theos's Roots - Glen Bernard and Sylvais Hamati
Theos was born in 1908 and raised by his mother in Tombstone, Arizona after his father Glen left the family. Rheumatic fever weakened his heart as a teenager, but that illness proved to be an important junction in his life, as he turned to his mother's extensive library of books on Eastern philosophy during his convalescence.
Theos's father Glen was born in 1884 in Iowa, then sent to Lincoln, Nebraska to live with the other side of the family. There, young Glen was introduced to a Syrian-Bengali named Sylvais Hamati by his half-brother Pierre. The brothers study Hindu philosophy and yoga with Hamati.
Glen traveled to India to study and also had a number of teachers in the US, he was a student of Yogi Wassan, Sukumar Chatterji and Swami Dhirananda who had come to help Yogananda run the Self-Realization Fellowship in California. Though never expressed directly, most likely Glen was Theos's first yoga teacher.
More Roots - Pierre Bernard
Theos's uncle, Pierre, was also deeply involved in the study of yoga, Ayurvedic medicine, eastern philosophy, and Tantric practices at the turn of the century.
Scandals, betrayal, jail time, and bankruptcy all crossed the Pierre Bernard's path. Whether a yogi or a plausible rogue, with funding from wealthy friends he built the first ashram in America.
Interested in a philosophy degree at Columbia University, Theos contacts his uncle, now dubbed "Oom the Omnipotent", who at this time was instructing a number of New York socialites in the science and practices of yoga outside New York City.
Chief among Oom's students was Anne Vanderbilt, who funneled a substantial number of friends and money his way to establish a discreet sanctuary. The result was The Mystic Order of the Tantriks on a 232-acre estate that was to become the Clarkstown Country Club in Nyack, New York.
Yoga
Although he had been pursuing a degree in law, Theos Bernard completed his studies only to turn to religious and philosophical pursuits. He entered Columbia University in the fall of '34. He went on to present the first dissertation in religion at Columbia University and in doing so was the catalyst for the founding of the religion department there.
In the 1930's Americans' interest in yoga was mainly spiritual and philosophical, Theos took the physical Hatha yoga forms and presented a program focused on health, vitality, and the notion that to "control of the body, leads to control of the mind".
Viola and Theos
Uncle Oom provided his services—either directly or incidentally—as a matchmaker for the Clarkstown membership. It was into this world that he brought his nephew, Theos, who eventually married a niece of Henry Morgenthau Sr., Viola Wertheim.
Completing his master's degree from Columbia University, and with the financial leisure accorded him by his marriage, Bernard was able to embark on an extensive trip with Viola and his father Glen to India and Tibet in late summer of 1936.
From India to Tibet
Viola soon returned to her medical studies in America, while Theos stayed on in India to pursue his interest in yoga and tantra. Bernard sought out teachers traveling the length and breadth of the country, from Kasmir to Ceylon taking religious initiations and instruction on various yogic techniques. Although ostensibly conducting field research for his doctorate at Columbia, Theos's main interest turned to finding a teacher who could impart the secrets of Tantric practice. However, he discovered that Tantric Buddhism was no longer actively studied and practiced in India, and that the only region that retained these teachings was Tibet. After almost a year in India, Theos finally secured an invitation and began the 1,500-mile journey into what was at the time a very isolated and closed country.
Help Along the Way
In preparation for the trip Theos had started studying Tibetan in 1936 and was already a highly accomplished yoga master, but he needed help in both his application to visit Tibet and his journey there. He found that assistance in Gegen Dorje Tharchin, a Tibetan in Kalimpong who aided him at every turn.
Tibet in the late 1930s was a country struggling to maintain its independence in the face of increasing pressure from the surrounding empires of Great Britain, Russia, and China. The object of much political intrigue, the Tibetan government attempted to maintain strict border control. Few Westerners, and fewer still Americans, were able to breach the borders of Tibet. Theos Bernard, with his knowledge of literary and spoken Tibetan, coupled with papers of introduction from his Tibetan teachers—and the friendship of the Tibetan cabinet minister, Tsarong Shapé—was one of the few early outsiders ever to be allowed to Lhasa.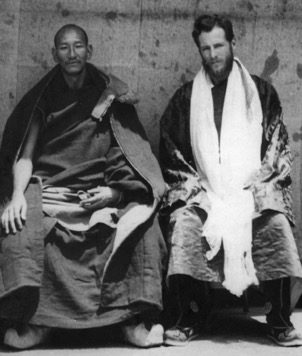 In Tibet
As the first American to study with yogis in the secretive monasteries of Tibet, Bernard had audiences with high officials, received Tantric empowerments and engaged in meditative retreats. Bernard negotiated the acquisition of a complete set of the Tibetan Buddhist canon and other books, participated in some of the highest religious rituals in Tibet, all the while documenting his experiences on paper, in photographs, and on film. The books were to serve as the focus of Bernard's efforts over the subsequent ten years as he attempted to establish a research center for their translation into the English language.
The stated purpose of Theos Bernard's trip to Tibet was to seek spiritual guidance in esoteric Buddhist practices and to acquire initiations directly from great Tibetan mystics. During his time there, Theos met with heads of government and the head lama of the Sakya lineage, who sent him home with letters for President Franklin D. Roosevelt. He also visited the great monasteries at Sera, Ganden, and Drepung, in addition to the Potala in Lhasa.
What Did He Find?
As his journey progressed, Theos became determined to acquire the important religious texts, artwork, and examples of ritual artifacts that would permit him to continue his studies of this complex language and culture at home and to serve as what he viewed as a legitimate promoter of Tibetan Tantric Buddhism.
Theos Returns to America...
Fact and fiction intertwine in the story that Bernard weaves of his time abroad when he returns home.
Hailed by the media with tales of his adventures in ShangriLa, his books, Heaven Lies Within Us and Penthouse of the Gods chronicle his experiences and set forth some of the fundamental principles of Indian and Tibetan philosophies.
Celebrity on Tour
He acquired a public relations firm and toured the country with a lecture and presentation of his film and stills.
Appearing four times on the cover of the largest-circulation magazine of the day, befriending the rich and famous, this charismatic and controversial "White Lama" introduced a new vision of life and a spiritual path to American counterculture.
The British tabloid press picked up Bernard's accounts at the time, and, though their sensationalistic reports concerning his identity as a "White Lama" garnered some positive public feedback it also earned him the scorn and private dismissal as a fraud and imposter.
Yoga
1942, he entered Columbia University for a second time to pursue his PhD. Completed less than a year later, his dissertation Hatha Yoga: The Report of a Personal Experience, was subsequently published and served to introduce the practices of yoga to an American audience.
Hatha Yoga: The Report of a Personal Experience
And this book was a lot more technical and less personal than his earlier works. These black and white plates were among the first published photographs of an American in yoga postures.
Return...
In 1947, Bernard launched a second expedition into the Himalayas.
Theos and his party were last reported to be returning from Ki Monastery. Conflicting reports and misinformation about his whereabouts circulated for several months. There were sectarian clashes in the region.
Though his third wife Helen waited for him in Calcutta, he never returned.
More than a year after his disappearance, his father tells a local reporter that Theos is alive and will return with the greatest adventure story of all time.
What actually happened to Theos can only be pieced together from the fragments of his life that he left in his wake when he disappeared.
Media